Robert Bosch GmbH, Infineon Technologies AG and NXP Semiconductors N.V. will
 jointly invest in European Semiconductor Manufacturing Company (ESMC) GmbH, in Dresden, Germany to provide advanced semiconductor manufacturing services.
ESMC 
marks a significant step towards construction of a 300mm fab to support the future capacity needs of the fast-growing automotive and industrial sectors, with the final investment decision pending confirmation of the level of public funding for this project. The project is planned under the framework of the European Chips Act.
The planned fab is expected to have a monthly production capacity of 40,000 300mm (12-inch) wafers on TSMC's 28/22 nanometer planar CMOS and 16/12 nanometer FinFET process technology, further strengthening Europe's semiconductor manufacturing ecosystem with advanced FinFET transistor technology and creating about 2,000 direct high-tech professional jobs. ESMC aims to begin construction of the fab in the second half of 2024 with production targeted to begin by the end of 2027.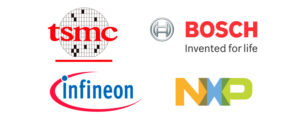 The planned joint venture will be 70% owned by TSMC, with Bosch, Infineon, and NXP each holding 10% equity stake, subject to regulatory approvals and other conditions. Total investments are expected to exceed 10 billion euros consisting of equity injection, debt borrowing, and strong support from the European Union and German government. The fab will be operated by TSMC.
"This investment in Dresden demonstrates TSMC's commitment to serving our customers' strategic capacity and technology needs, and we are excited at this opportunity to deepen our long-standing partnership with Bosch, Infineon, and NXP," said Dr. CC Wei, Chief Executive Officer of TSMC. "Europe is a highly promising place for semiconductor innovation, particularly in the automotive and industrial fields, and we look forward to bringing those innovations to life on our advanced silicon technology with the talent in Europe."
Dr. Stefan Hartung, chairman of the Bosch board of management: "Semiconductors are not only a crucial success factor for Bosch. Their reliable availability is also of great importance for the success of the global automotive industry. Apart from continuously expanding our own manufacturing facilities, we further secure our supply chains as an automotive supplier through close cooperation with our partners. With TSMC, we are pleased to gain a global innovation leader to strengthen the semiconductor ecosystem in the direct vicinity of our semiconductor plant in Dresden."
"Our joint investment is an important milestone to bolster the European semiconductor ecosystem. With this, Dresden is strengthening its position as one of the world's most important semiconductor hubs that is already home to Infineon's largest frontend site," said Jochen Hanebeck, CEO of Infineon Technologies. "Infineon will use the new capacity to serve the growing demand particularly of its European customers, especially in automotive and IoT. The advanced capabilities will provide a basis for developing innovative technologies, products and solutions to address the global challenges of decarbonization and digitalisation."
"NXP is very committed to strengthening innovation and supply chain resilience in Europe," said Kurt Sievers, President and CEO of NXP Semiconductors. "We thank the European Union, Germany, and the Free State of Saxony for their recognition of the semiconductor industry's critical role and for their true commitment to boost Europe's chip ecosystem.
"The construction of this new and significant semiconductor foundry will add much needed innovation and capacity for the range of silicon required to supply the sharply increasing digitalisation and electrification of the automotive and industrial sectors."