Zoomlion Heavy Industry Science & Technology Co., Ltd.  is making significant progress in international markets, fulfilling substantial product deliveries in the Middle East, Australia, and Southeast Asia region. This achievement spotlights Zoomlion's internationalisation and localisation development strategy, underlining its commitment to providing high-quality products and services worldwide.
In the Middle East, Zoomlion's performance has been remarkable. In Saudi Arabia, its excavators, were deployed for NEOM, the "City of the Future." The quality and quick delivery of these products increased customer satisfaction and led to more orders.
Its 110-ton and 80-ton truck cranes are set to be used in Yanbu, a western city in Saudi Arabia, and dozens of concrete mixers have been delivered to Yamama Cement Co., the country's oldest cement manufacturer.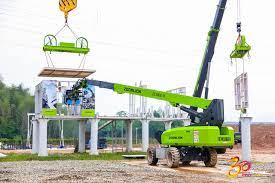 Similar success was experienced in the United Arab Emirates (UAE) and Kuwait, where Zoomlion's efficient overseas business system enabled rapid fulfillment of large orders. Leveraging its robust overseas business systems, the company swiftly delivered eight out of an order of 17 truck pumps to the UAE in just over 20 days.
The speedy fulfillment was facilitated by its Gulf subsidiary based in Dubai's Jebel Ali Free Trade Zone, cutting shipping time from China by over a month.
"Our three-tier network layout covers all the major markets in Saudi Arabia, ensuring a rapid response for service spare parts. We're seeing a marked increase in customer satisfaction," said Liu Jianwei, Zoomlion's National Manager in Saudi Arabia.
Australia saw the launch of Zoomlion's first 4S store for earth-moving machinery. This fully equipped facility is set to provide comprehensive sales and after-sales services to clients, showcasing Zoomlion's commitment to customer satisfaction.
Meanwhile, in Malaysia, Zoomlion delivered three wet spraying machines for the challenging East Coast Rail Link construction, highlighting the company's ability to create adaptable and effective solutions for diverse global conditions.
Zoomlion's overseas business continues its upward trend. According to its financial report, overseas revenue in 2022 saw a 72.6% year-on-year increase, while the first quarter of 2023 enjoyed a 123% rise, revealing a steady and promising growth trend for Zoomlion's international business.
Amid an increasingly globalised market, Zoomlion is accelerating its development, deepening its localisation strategy, increasing product research and development investment, and maximising product adaptability and quality to meet the diverse needs of its global clientele.