Profet AI, a Taiwanese AutoML enterprise solution provider for the manufacturing sector, joined forces with Hive Ventures to hold the Crossover Talks forum in Ho Chi Minh City, Vietnam, on June 19th. The forum aimed to facilitate knowledge exchange and collaboration between Taiwan's leading experts and local enterprises in Vietnam, regarding AI implementation, digital transformation, and talent development in manufacturing.
Jerry Huang, Co-founder and CEO of Profet AI explained that the decision to host the event stemmed from discussions with customers eager to venture into the Vietnamese market. Addressing the main feedback regarding a lack of knowledge about the local market, Profet AI and Hive Ventures embarked on a thorough two-month exploratory market study. As a result, the Crossover Talks forum was organized to bridge this gap effectively.
Vietnam has emerged as a thriving industrial hub in recent years, becoming a global magnet for the wave of manufacturers shifting their operations to new markets. Vietnam's industrial sector, grew 9.9% in 2022[1], a year that marks the 30th anniversary of Taiwan-Vietnam trade relations, where bilateral trade volume closed in on US$ 28 billion. Taiwan is now Vietnam's fifth-largest trading partner, with an annual trade volume growth rate of 24.4%[2]
Early impressive growth has been somewhat tempered by the recent slowdown in global demand. To tackle this challenge head-on, the forum emphasised harnessing AI's potential to mitigate the downturn and fuel sustainable growth in Vietnam's manufacturing industry.
The Crossover Talks brought together 80 companies from Taiwan and Southeast Asia, and leading speakers voices from the academic, manufacturing, and business spheres, including Yan Lee, Founding Partner of Hive Ventures, Justin Chen, Information Center Manager of Maxxis, Kenny Chiu, Vice President of Shuttle Service Co. Ltd., James Chan, Innovation Advisor at Acon-Holding Inc., Professor Dr. Chia-Yen Lee of the Department of Information Management at National Taiwan University, Jonathan Yu, General Manager of Sales at Profet AI, Benjamin Kuo, Director of Industry Development at Taiwan AI Academy, Den Ng of Macrovention, Jack Chao of AUO Digitech, and Gia Lung Chin, Executive Director of PwC Vietnam.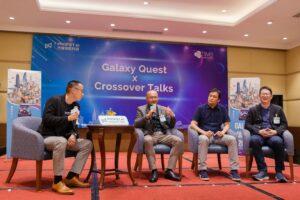 Emerging Trends and Takeaways
Over hours of sessions and panels, four key insights were distilled from the wealth of discussed shared experiences and expertise, revealing the current state of AI adoption, suggestions, and best practices.
Invest in AI During Downturns to Stimulate Future Growth
Professor Dr. Chia-Yen Lee of the Department of Information Management at National Taiwan University served as the opening speaker at the Crossover Talks forum. He emphasised the importance of proactive investment in digitalization and AI during economic downturns. Professor Lee advised companies to seize the opportunity to stimulate growth and anticipate future opportunities by investing in digital transformation. He also highlighted that digital transformation and AI investment are continuous processes, and should not be restricted to down-periods.
Collaboration is a Catalyst for Successful AI Implementation
Participants highlighted the importance of collaboration when implementing AI, to stimulate growth and innovation, enhance operational efficiency, and maximize returns on investment, as highlighted by industry leaders Jack Chao from AUO and Den Ng from Marcovention. Chao emphasised that collaboration fosters growth and innovation, while Ng explained how digital transformation and AI adoption can yield substantial returns on investment in the Southeast Asian market.
By working together, companies can overcome challenges in AI adoption, streamline their processes, and prepare for the digital demands of the future. Additionally, Chao advised companies to proactively invest in digitalization during downturns, as it stimulates growth and enables them to anticipate future opportunities.
The Manufacturing Sector Has Become the Pacesetter for AI Adoption
The manufacturing sector has surpassed sales and marketing, and emerged as the frontrunner in AI adoption, as highlighted by the Hive Ventures: 2022 State of Taiwan Enterprise AI Report presented by the founding partner, Yan Lee. 57.6% of companies reported that the COVID pandemic accelerated their AI adoption, but this was more pronounced for manufacturers, who were pushed out of necessity to improve operational efficiency and optimise costs.
A noteworthy shift was observed in the sectors spearheading AI adoption over the past year. While sales and marketing departments held the lead previously, the manufacturing sector has now emerged as the frontrunner. This shift reflects a recent emphasis on leveraging AI to enhance operational efficiency and optimize costs within manufacturing processes.
To expedite and ensure effective AL implementation, the report strongly recommended embracing no-code platforms. By leveraging these platforms, organizations can simplify and standardize the integration process, enabling non-technical individuals to actively contribute to the initiative, fostering inclusivity and swifter progress
Taiwan's Potential to Transform Southeast Asia's Manufacturing Sector
Jonathan Yu, General Manager of Sales at Profet AI, emphasized that Taiwan is primed to spearhead the forthcoming surge of industrial digital transformation and Southeast Asia AI implementation, as it is already a world leader in manufacturing. The island has seven manufacturing sectors that are valued at over NT$ trillion (US$ 32 billion): IC Design, Semiconductors, Internet Communications, Servers, Image Display, PCB, and Industrial Machinery.
However, several significant challenges in AI adoption must be addressed, including a shortage of skilled professionals, limited technology infrastructure, and the complexity of applying AI to real-world business use cases. By harnessing the power of suitable tools, non-code platforms, and strategic investments in training programs, companies can proactively address the talent shortage, streamline their processes, and adeptly navigate the challenges that arise with the adoption of AI technologies.
AI as the Antidote to Manufacturing Succession Planning Dilemmas
Both Gia Lung Chin of PwC and Justin Chen of Maxxis emphasized the importance of leveraging AI to solve succession handover dilemmas in the manufacturing industry. Chin highlighted how AI can help digitize and preserve the knowledge and experience of seasoned experts, while Chen explained how AI tools have transformed veteran staff members' experiences into data-driven knowledge.
Through their collaboration with Profet AI, Chen's company was able to replicate expertise at their Kunshan plant, resulting in outstanding performance. By incorporating AI technologies, companies can ensure a seamless transfer of expertise, leading to successful digitalization and addressing the challenges of succession planning in the manufacturing industry.
Conclusion
The Crossover Talks forum was a successful event that facilitated knowledge exchange and collaboration between Taiwan and Vietnam's manufacturing industries. By sharing Taiwan's best practices and expertise in AI implementation, digital transformation, and AI talent development, the event sought to assist Vietnamese businesses in their pursuit of innovation and growth.
The forum provided valuable insights and expert advice on how manufacturers can navigate economic downturns through digitalisation and highlighted the importance of fostering a culture of AI integration and continuously building capacity in this area.
[1] https://en.vietnamplus.vn/industrial-sector-reports-9-growth-in-2022/246247.vnp
[2]https://en.dangcongsan.vn/trade-investment/two-way-trade-between-vietnam-and-taiwan-china-reaches-nearly-usd28-billion-602576.html