Transforming the decarbonisation of business,
What exactly do you do?
As Terrascope's Head of Sustainability, I build strategic partnerships with key stakeholders to drive corporate decarbonisation at scale. This involves collaborating with industry associations, government officials, regulators, enterprises and other organisations, to identify and unlock opportunities that will significantly reduce carbon emissions and limit global warming to 1.5°C.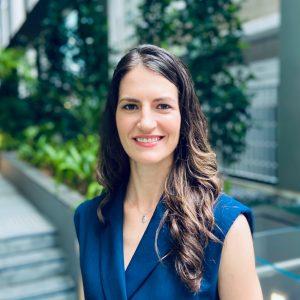 In addition to building partnerships, I collaborate with our data, engineering, product and design teams to optimise the emissions data and insights that our software provides to clients. We help them define clear and actionable steps to transform their operations and supply chains, resulting in positive impacts on both their carbon footprint and bottom line.
Prior to joining Terrascope, I was a climate negotiator in the United Nations and senior advisor to the Alliance of Small Island States (AOSIS), a bloc of 39 countries facing existential climate risks, and considered the moral voice for climate action. I also spent several years with the C40 Cities Climate Leadership in West Africa, where I trained staff in mayor's offices across Abidjan, Accra, Dakar and Lagos to prepare city-level carbon inventories and develop Paris Agreement-aligned climate action plans.
How are your efforts currently making a difference to climate conditions?
At Terrascope, we are focused on accelerating "big" net zero journeys across critical sectors and geographies. We believe that collaborating with large companies and stakeholders in the real economy presents a unique (and largely untapped) opportunity to drive decarbonisation at scale.
Combining our deep expertise in data science, machine learning and sustainability, we work closely with clients and partners to identify and unlock decarbonisation opportunities that may have been overlooked. We place special emphasis on accurately measuring and managing value chain emissions, known as Scope 3, which can make up to 90% of a company's carbon footprint but are notoriously difficult to quantify.
Our measurement methodologies are tailored for key sectors with complex, global supply chains — such as agriculture, food and beverages, industrial manufacturing, consumer goods, technology, and real estate. By focusing on decarbonisation in these sectors, we believe we can make a significant impact on the fight against climate change.
Is there an area you specialise in?
Throughout my career, I have transitioned from a more general focus on environmental management, including environmental impact assessments, to specialising in climate science, which encompasses both physical risks of climate change and emissions sources. Today, my focus is on developing strategies for decarbonisation, with a particular emphasis on identifying emissions hotspots and finding impactful solutions to address them.
Decarbonising business – how are you doing this?
Decarbonisation involves two journeys — a journey to reduce data uncertainty and a journey to reduce emissions. Terrascope enables companies to make tangible progress on both, and identify the most impactful actions they can take in their climate transition.
To tackle data uncertainty, our platform offers a comprehensive tech solution that accurately measures and manages carbon emissions. Today, 90% of companies are unable to measure their emissions with confidence. Terrascope solves this critical challenge by enabling them to measure Scope 1, 2, and 3 emissions in a fast, accurate, repeatable, and explainable way. This is the first — but most important — step towards decarbonising operations and supply chains. So companies have to get it right.
Our platform also facilitates shared accountability and collaboration at scale, making carbon management accessible and actionable. By working together within a common platform and a single source of truth, internal and external teams can make informed decisions on reducing emissions and meet their sustainability goals.
Why is carbon footprint measurement important?
Putting carbon emissions data in the hands of business leaders, at a commodity and business unit level, focuses capital and human resources where it matters most. Without reliable carbon data, it's impossible for companies to develop effective strategies for decarbonisation.
Carbon measurement and management is also essential for businesses to maintain long-term viability and remain competitive in tomorrow's low-carbon economy. Companies face ever-increasing pressure from investors and regulators to disclose and reduce their carbon footprint, while consumers are becoming more environmentally conscious.
Companies taking clear and credible steps to reduce their carbon footprint will thus be better positioned to attract investments and customers, as well as retain market share.
Implementing data-driven carbon reduction strategies can also result in significant cost savings opportunities. At Terrascope, we empower many large companies with far-reaching value chains to achieve operational efficiencies, cut down on waste, and reduce costs by unlocking accurate and granular insights into their carbon footprint, particularly their Scope 3 emissions.
Women in Sustainability – is this a growing profession for women?
Sustainability is a field sown by pioneering and brave women — from Rachel Carson's seminal 1962 book Silent Spring that led to sweeping pesticide reforms, to the work of activists like Kenya's Wangari Maathai or Sweden's Greta Thunberg. Thanks to foundational female thinkers and leaders, sustainability is a profession that is both growing for women and being shaped by them.
You have contributed hugely around the world. Which country has presented with the most challenges?
I have found my work in emerging markets to be especially valuable and important, as these countries face a unique climate challenge: achieving high economic growth without generating the emissions from industrialisation that we've seen historically. Heavy industry accounts for about 25% of greenhouse gas emissions globally — even more in emerging economies — and is considered one of the hardest sectors to decarbonise.
Cement, iron and steel, and chemical production are particularly challenging. While efficiency gains in the short term are important and present a strong economic imperative, they are limited in impact. To reach net zero by 2050, industry will require technologies that are still in the prototype or demonstrate stage today. It will be exciting to see the changes that happen in this sector that is so critical for economic development.
Who or what is your inspiration?
Growing up on the small Caribbean island of Antigua & Barbuda motivated what I wanted to change in the world. When I was six years old, I lived through a Category 5 hurricane that nearly destroyed our house and left us without electricity for three months.
Favourite saying?
I recently came across the proverb "Tell me and I'll forget; show me and I may remember; involve me and I'll understand." I like this saying because it captures how important collaboration and inclusiveness are for sustainability: corporate climate plans are only successful and effective when employees have contributed to them.
This is an important mantra for us at Terrascope — we want to make carbon data measurement an engaging and collaborative experience as clients do the important work of planning for their net zero future.
I'll also throw in a freebie, which is my go-to climate change dad joke: "A wind turbine saw a solar panel at an energy convention. He leaned in and shouted: Hey, I'm a big fan!"
What are you reading at present?
I'm currently reading The Ministry for the Future, a novel by Kim Stanley Robinson set in a future where global warming has exceeded 1.5°C. It's important to be reminded of what's at stake — the difference between 4 degrees of warming and 1.5 is not just numbers on a graph in a downward trajectory; it is about people's lives.
Do you believe the world will get to 1.5C?
The world can get to 1.5°C, and I truly believe we will get there. In fact, the world is already making significant strides towards this goal.
As of today, climate policies and regulations are being implemented to hold companies and financial institutions accountable for their net zero targets and the data supporting underpinning them. This is particularly evident in the US and the EU, and other major economies and countries are now following suit. By embedding the risks of not taking action on climate change into legal and financial systems, we are building the necessary foundation for limiting global warming to 1.5°C.