CHINT, a global leader in smart energy solutions with over 35 years of global experience and a team of the industry's best engineers and research scientists, partners businesses, governments, and communities in Asia to reimagine smart energy solutions with next-generation innovations to Empower the World.
The company offers Power-to-Plug solutions that propel organisations in the United States of America, Europe, West Asia and Africa and Asia Pacific to success with customizable, realistic, and superior quality products and services that meet their business, environmental and social goals.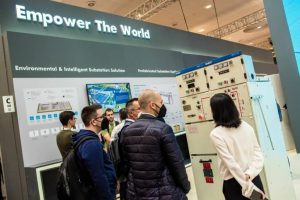 With two decades of global expansion, CHINT's business network now covers more than 140
countries and regions worldwide in areas of low-voltage, power transmission and distribution,
water, gas and electricity metering, green energy like solar and more. Last year, CHINT Global
established its APAC Headquarters in Singapore. The company has since been working with
the Singapore government such as in the SolarNova program led by the Housing Development
Board and the Economic Development Board to enable HDB flats to adopt solar photovoltaic
systems.

At the China Mechanical and Electrical Exhibition 2023 event held in Singapore from 22 to 24
March, CHINT shared with the industry stakeholders about how their company can partner
CHINT to better prepare for the government's green initiatives using environmentally friendly
power distribution solutions and highlighted the importance of safe and reliable transmission
of electricity with the use of right products such as Low-voltage protection solutions.
CHINT also showcased their leading-edge products including their Renewable Energy Solutions,
Smart City Solutions, Environmental & Intelligent Substation Solutions, Data Center Solutions
and Building Power Distribution Solutions.

Johnson Luu, Director at CHINT APAC shared at the event about intelligent manufacturing.
"Intelligent manufacturing plays a crucial role in supporting the accelerated pace of
digitalisation. The speed of production and implementation, and the use of superior quality
smart energy products, work together in meeting the accelerated demand for power-to-plug
solutions.
"Today, CHINT is one of the largest producers of circuit breakers – producing up to
3 million circuit breakers daily to serve the needs of the world. We have built the factory of
the future, and we will continue to improve the structure of energy production and
consumption. We will push the boundaries of innovation to grow our intelligent
manufacturing expertise, grow in tandem with technological advances, and work towards
building zero carbon factories", says Johnson.

Er. Lim Say Leong, Technical Director of CHINT Global and Sunlight Electrical and a former IEC
Ambassador with 40 years of experience in the electrical engineering industry also shared at
the event that "to optimise energy consumption and increase reliability, one-size-fits-all
smart energy solutions are few.
Customisation is paramount, and it has become a common demand of companies. Today, smart energy solutions must be tailored to the needs of businesses and integrated seamlessly with existing systems. They should be designed with scalability in mind, especially in this era of digitalisation, to allow for future expansion as the energy demand continues to grow. By doing so, we can pave the way for reliability, minimising downtime, and ways to generate greater efficiency and cost savings over the long term."

CHINT's 400m2 Asia Pacific Innovation Lab is now the go-to platform for businesses,
governments, academics, and communities in the APAC region to experience live
demonstrations and simulations of proof-of-concept. Through this lab, customers can explore
and experience CHINT's leading-edge solutions with smart energy technologies that are
applicable for functions including the built environment, data centers, the industrial sector,
and smart cities.
The lab is a platform for customers to understand how smart energy solutions can be customised to their needs, integrated to their existing systems, and designed to meet with their technical specification requirements – while addressing industry challenges such as Remote Factory Acceptance Testing.