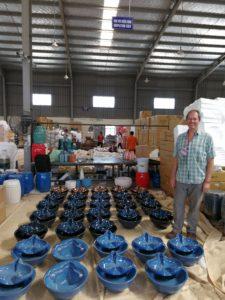 Ian Trousdell, Director, Flowform International Ltd on site with some of the products made for his company by Doan Potters Ltd including Matatiki models.
                                                                                                                       Hung Tran, Senior Merchandiser Doan Potters Ltd is on the right.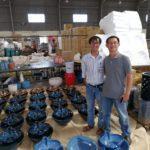 Doan Potters Ltd., Tan Binh District, Ho Chi Minh City, Vietnam Doan is one of Vietnam's leading manufacturers of ceramics. With more than 24 years in the business, they provide a good customer experience through their design, quality and reasonable pricing.
Established in 1994, Doan Potters Ltd had a turnover in 2017 of $12.5M. The company operates from a 280,000 square feet factory and has production capacity of 200,000 pieces per month and 2,400,000 pieces per year.
Their products are mainly shipped to the US market and have the advantage of being manufactured handmade, with special and unique charms.
The company has a highly skilled workforce. They conduct in house laboratory testing -lead test, frost resistant test and transit test.
Including for consistency of color for mass production, new development test, i.e.: new color, new clay, new technique.
Major customers include Lowes, USA; London Drugs, Canada; Home goods, USA; Westelm, USA ad Pier 1, USA. Products shipped for these clients include indoor and outdoor planters, lanterns, candle holders, stools, basket wares and other indoor home accessories.
Ian Trousdell, Director of Flowform International and Design for Life Ltd – www.flowform.net – ian.trousdell@flowform.net –  currently expanding into China, experienced technical difficulty making figure 8 designs which lead them to Doan Potters. "And, of course, because of their reputation for high quality production. American Vietnamese ceramic designer Trinh Le Nga introduced us.
"Doan agreed to help us because of the work we do to help improve water quality, and because of the interest in the figure 8 water flow and the beautiful designs. We look forward to ongoing working relationship, after experiencing the extraordinary care and attention to detail and quality of Doan."
Doan Potters Ltd sees R & D as integral to their success in the current tough business climate.
The company exhibits at the Ambiente Fair I Frankfurt, Germany which takes place in February each year.
Doan Potters Ltd sees potential growth for their services and products in the USA and in Europe and they are finding current business conditions to be very good, even though there is a lot of competition.
As Hung Tran puts it, "We see plenty of opportunities to further develop our strength in the handmade pottery marketplace."