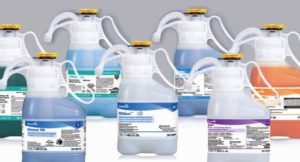 Shanghai – Sealed Air Corporation, a global provider of protective packaging solutions, has opened a production line at its Qingpu manufacturing facility in Shanghai, China for one of its most innovative solutions: Korrvu retention and suspension packaging.
At a total investment of more than US$1 million, the line is capable of producing up to several million pieces of Korrvu . This brings the total production lines to nine, making the facility Sealed Air's largest and most technologically advanced manufacturing plant in Asia.
The investment in the new line is part of an expansion which will increase the plant's capacity by 2018 to serve growing markets in China and the region.
Korrvu suspension and retention packaging provides product protection, presentation, versatility, and space savings and is used by global manufacturers including those in the electronics industry. Korrvu is a patented solution for shipping products when presentation and customer experience are key. The unique design uses a low-slip film that positions and secures products to a corrugated backing, which guarantees that customers are presented with a retail experience directly out of the box.
While material and storage reduction are key benefits of Korrvu, ease of use and versatility are also notable. The simplicity of the Korrvu design makes it easy for warehouse associates to assemble.
Korrvu packaging is used by e-commerce retailers and companies in other industries including electronics. China is already the world's largest retail e-commerce market, with sales expected to top $460 billion in 2017 and a growth rate of over 15% per year (source: Statista.com). Packaging will play a bigger role than ever in ensuring product integrity from the production floor to the customer's door.
China's electronics industry is among the top ten fastest growing industries in the country and is set to reach over US$17 billion in 2017 (source: Oxford Economics Q1 2017 Industry Forecast China). Identifying and eliminating inefficiencies throughout operations will ensure that every resource is being used to its greatest return. With companies facing key challenges in wasted material, energy, space, time, labor and money, a one-size-fitsall solution is no longer viable.
The rising expectations of Chinese consumers for quality, value and experience, and not just price and assortment, show a need for innovative packaging solutions to address multiple concerns that impact both the bottom line and consumer loyalty.
"Korrvu packaging can be custom designed to meet the specific needs of our customers. Sealed Air's packaging design and engineering teams works closely with the customer's engineering and purchasing teams to create the most effective solutions possible, and Korrvu is addressing the needs for packaging versatility, durability, sustainability and presentation," said Pasi Pesonen, Vice President for Sealed Air Product Care, Asia Pacific.
Korrvu has been recognised for its distinctive design, notably earing a Packaging Innovation Award from DuPont in 2016.
Sealed Air's Product Care division entered the China market in 1996. The Qingpu manufacturing plant started operations in 2008, producing specialty foam packaging. With the addition of Korrvu, the Qingpu site is now Sealed Air's most diversified manufacturing plant in Asia, producing both food and product packaging solutions. The facility is also home to Sealed Air's Packforum Asia, a world-class customer learning centre.