QUAH Beng Chieh, Head of Marketing, Asia Pacific, FARO Technologies
How does FARO see the current business climate?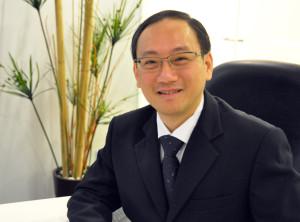 The global business climate is expected to remain bearish in the months ahead, but we are optimistic about growth across Asia. In the past year, FARO has been expanding its capabilities and enhancing its product solutions through acquisitions of new companies and technologies – like BuildIT Software & Solutions Ltd. and Laser Projection Technologies. Inc.
This growth strategy has worked for us and we will continue to explore relevant industries to expand into, such as Public Safety Forensics, Factory Automation, and more.
What have been the highlights of 2016 for FARO? Is business strong for the company?
 2016 has been a good year for FARO all round. Earlier in March, FARO restructured its business into 5 vertically focused teams – namely, factory metrology, product design, construction BIM-CIM, public safety forensics, and 3D solutions and services applications.
This restructuring exercise was motivated by our desire to develop and deliver industry and application specific solutions to our customers.
In line with the restructure, the company launched a record number of new solutions for users from the 5 industry verticals, including the FARO BIM Scan Localizer, FARO Design ScanArm, FARO Laser Scanner Focus  S, FARO Cobalt Multi-Array Imager, FARO Vector RI, FARO Tracer M Laser Projector, and the FARO Laser Tracker Vantage E.
With this new direction, our customers now have access to different solutions that cater to their specific needs, rather than generic ones. We have received very positive feedback from the market and the sales of our new products have been steadily growing since their launch.
How does FARO see the market changing?
In the last decade, we have observed a shift in demand among our customers – from contact to non-contact measurement methods. Factors such as the popularity of additive manufacturing, the rise of automated in-line inspections, and the general change in preference for more ergonomic designs (as opposed to 'boxy' designs primarily formed with straight lines) played a part in this change.
We expect to see more advanced scanning solutions that cater to new measurement demands.
As the economy continues to grow in Asia, manufacturers are expected to expand their operations, optimise their businesses to reduce cost, and develop their capabilities to capture new markets. These business activities translate to a rise in demand for measurement and imaging solutions, and we expect a corresponding increase in manufacturers' interest for our products.
The FARO team has been actively promoting its solutions to the Asia market, by educating the users on how our 3D measurement solutions can benefit their businesses. The company is committed to supporting manufacturers in all their measurement needs.
 Where is the future of manufacturing?
As products become more complex in design, both in form and functionality, the demand for advanced measurement solutions that can handle such requirements become more commonplace.
Increasingly, non-contact measurement devices such as the FARO Edge ScanArm are fast becoming standard equipment for manufacturers. The Edge ScanArm not only obtains up to half a million points per second, it also scans dark, shiny objects, capturing every contour and crevice on an object in high precision. The spatial data can be easily presented in a 3-dimensional point cloud output for analysis, measurement, inspection, and reporting.
Furthermore, with the addition of the FARO Cobalt Robo-Imager, manufacturers can automate quality control processes that used to require an operator, which greatly enhances productivity, effectiveness, and efficiency. More importantly, automation improves accuracy as human error is taken out of the equation.
How important is R&D for the company?
FARO is attuned to the manufacturing industry's trends and demands, and we make continued investment to develop new 3D measurement technology to cater to our customers' needs.
We are committed to R&D and we recognise the importance of customers' feedback in our R&D activities. FARO enjoys strong and close relationships with our customers – we have an open channel for customers to provide their feedback to us. This allows us to identify areas in which we can improve upon and to affirm the direction of our earlier initiatives.
Our R&D team applies the latest advances in technology to improve and augment our portfolio of solutions – we strive not just to enhance the features of our products but also on the user experience. This way, we ensure that FARO meets market needs today and anticipate new ones tomorrow, securing the company's leading position in the measurement industry.