Where do you see work opportunities for Gen Z? When considering work opportunities for Gen Z?
Tech-enabled companies such as Asticom present a wealth of promising prospects. Gen Z is a digitally native generation, and their tech-savvy nature aligns perfectly with the demands of this industry.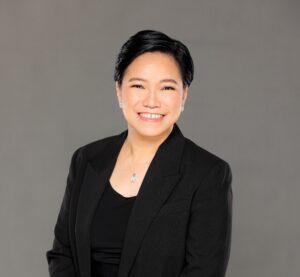 In the shared services and outsourcing spheres where Asticom operates, there are opportunities in areas such as customer support, data analysis, digital marketing, and IT services, where Gen Z can leverage their familiarity with technology to excel. Focusing on preparing Gen Zs for promising work opportunities, we initiated various programs in Asticom.
One of them is AstiELEVATE, a cadetship program that aims to help aspiring young professionals develop their skills and carve out careers through real-world experience.
For those taking the Tech path, we've partnered with a coding boot camp to help cadets build their software development, web design, and engineering skills. By the end of the program, they were deployed to our subsidiaries.
Moreover, we recognize and address Gen Z's inclination toward work-life integration by offering flexible work arrangements encompassing remote work.
How do you see their skill(s) level for adaptability?
Having grown up in an age where technology is part of daily life, Gen Z workers are highly savvy in using technology. This is a valuable skill set in today's rapidly evolving business landscape. They have grown up in a world of constant change, and their ability to quickly learn new technologies, adapt to different work environments, and embrace innovative solutions is a great asset.
They are easily taught and can smoothly adapt to new technologies and platforms that are introduced to them. Sometimes, they are even the ones at the forefront of emerging technologies. They are comfortable with various digital tools and platforms, positively impacting their work efficiency and, thus, the organization's culture.
Apart from being tech-savvy, this generation also emphasizes purpose-driven roles, where they are more motivated by meaningful work and a company's commitment to impactful causes. They are more aware of values centered on workplace diversity and inclusion.
Many Gen Zs also seek continuous learning and development opportunities, being more open to innovation and problem-solving within their roles.
As leaders, we should be able to identify and nurture these traits of Gen Z. They are open and highly adaptable to change – characteristics prized by constantly evolving companies.
Do you currently see professional positions they can be trained into?
Asticom, for instance, strongly emphasises providing learning and development programs to nurture talents regardless of age and tenure. Gen Z can be trained in various roles, from entry-level positions to specialised roles within the tech-enabled shared services and outsourcing sector. We see them as a valuable addition to our workforce and are committed to their growth.
With the rapid shift to remote and hybrid work environments, particularly in tech-enabled companies, Gen Zs has excellent potential in IT, e-commerce, content creation, digital marketing, e-learning, and other professional services.
With programs in Asticom, such as Asti SPACE (powered by LinkedIn Learning), aimed to drive professional development among our employees, we strive to equip them with the skills and competencies they need to thrive and succeed.
In our cadetship program, AstiELEVATE, we exposed our young cadets to various projects that honed their skills. These projects include the cadets taking up different programming courses and languages such as Bootstrap CSS, Framework, Node.js, Data Structures and Algorithms, and Javascript, coupled with advanced server configuration.
They were also engaged in Project Management training and have undergone in-depth immersions across key divisions, including Build Operations, Network Services, and Planning.
This is an excellent example that this generation has great potential to be trained into various, diverse roles.
Do you work across countries?
While our current operations are focused on the Philippines, we have started tapping opportunities beyond the Philippines, specifically APAC and ANZ, for Asticom. Filipino talents are highly skilled and valuable in the regional market, most especially in the industry of BPO, where communications are crucial.
The Philippines boasts a robust command of the English language, showcasing a 96% literacy rate, which positions it as one of the most English-proficient nations in Asia. Coupled with globally recognized educational systems, our country has a highly skilled talent pool in communications or tech.
These are an excellent chance for our fellow Filipinos to be exposed and take advantage of abundant and diverse opportunities beyond our shores. And this strongly resonates with our mission and purpose of improving lives.
Will AI have an effect on where Gen Z gain employment?
AI will undoubtedly have an impact on the job market, but it's essential to recognize that AI is a tool that can enhance and streamline tasks rather than completely replacing human workers. AI automates repetitive tasks in the tech industry, including shared services and outsourcing, allowing employees, including Gen Z, to focus on higher-value activities that require creativity, problem-solving, and human interaction.
Gen Z's openness to change will be fundamental to the organization's digital transformation drive. This is highlighted by their willingness to accept that some processes and systems may no longer be working and need improvements.
AI is revolutionizing HR practices and reshaping how organizations manage their human capital. While measurable indicators of success include enhanced productivity, efficiency, and reduced costs, the actual benefits lie in intangible outcomes such as employee experience, the achievement of a better work-life balance resulting from enhanced work processes, and, notably, the retention of talented individuals.
Knowing how Gen Zs are in the workplace, these intangible outcomes benefit this generation, who value meaningful and innovative work, among others.
AI is genuinely changing the nature of work, but it is important to recognize that while its potential is immense, no technology can fully replace humans.
Are there positions in The Philippines for Gen Z.?
Yes, certainly. The country's outsourcing industry thrives, offering young professionals a wide range of career options. Moreover, many of Asticom's strategic partners, particularly multinational companies, are establishing their presence in the Philippines, providing even more opportunities for Gen Z to work in various sectors, including technology, fintech, health tech, Edutech, and customer service.
As a shared service and outsourcing company, Asticom taps into these opportunities via our strategic partners.
You are focusing on the home base?
We're working in a hybrid setup. Our experiences at Asticom highlighted the effectiveness of a hybrid work model, merging face-to-face interactions with remote work to foster robust team dynamics. This approach, which we found effective in building workplace relationships while allowing time for personal relationships to nurture, capitalizes on the strengths of both work styles, contributing to better collaboration and thriving work culture.
 Tech seems to me where a high proportion of positions will be available on an on-going basis. How do you see this?
For Asticom, we're seeing consistent growth in the demand for tech-enabled services, digital solutions, and IT expertise. In the IT-BPO industry, as per the IT and Business Process Association of the Philippines (IBPAP) projections, approximately 1.1 million direct job opportunities are anticipated to be created by 2028.
This presents a significant opportunity for Gen Z, who are often at the forefront of technological advancements. As long as they continue to develop their skills and stay updated with the latest trends, they will find abundant and rewarding career paths in the tech sector.
As a fervent advocate of tech-driven innovation, I am optimistic about the transformative potential this trend holds for Gen Z. Our endeavors at the Asticom Group of Companies mirror our unwavering commitment to cultivating the future workforce by empowering them with relevant proficiencies and an array of opportunities.
About Asticom Group of Companies
Asticom Group of Companies is a tech-enabled shared services and outsourcing company under the growing portfolio of the Globe Group.
Asticom Group has four thriving subsidiaries that contribute to realizing its purpose of improving people's lives: technology-first SSO Asti Business Services Inc. (ABSI), digital business and custom development solutions provider HCX Technology Partners Inc. (HCX), engineering and tech solutions provider Fiber Infrastructure and Network Services Inc. (FINSI), and end-to-end workforce solutions company Acquiro Solutions and Tech Inc.
As part of the Globe Group, Asticom supports the United Nations Sustainable Development Goals (UNSDG), particularly SDG No. 8, which promotes inclusive economic growth and decent and quality work for all.
Source References: