The manufacturing industry is a key contributor to Malaysia's export revenue, job creation and GDP, at 24 percent in Q2'23, second only to services industry. Despite slipping by 4 percent in June, Malaysia's manufacturing sector still recorded a sales value of RM147.4 billion—highlighting its importance and untapped potential to the nation's economy. 
Collaborate APAC 2023
Against this backdrop, Universal Robots (UR), a leading provider of collaborative robots (cobots) will be holding Asia Pacific's largest cobot conference, Collaborate APAC 2023 in Malaysia. The conference aims to provide a platform for manufacturers to share both the challenges and successes of their automation journeys in combatting roadblocks of the sector and explore automation solutions to address emerging manufacturing issues.
To be held at Sunway Resort Hotel, Kuala Lumpur, the conference includes presentations from Sensata, a global electronics and sensor technology company, and Plasform, a Malaysian plastics manufacturer, where they share about their automation journeys in the quest of hurdling challenges faced in the industry.
"Despite a number of headwinds, manufacturing continues to play a vital role in Malaysia's economic transformation and overall growth," said Adam Sobieski, Regional President APAC at Universal Robots. "We understand that manufacturing is no simple task, and there is no one blanket solution for every business in the industry. However, automation on the manufacturing floor can act as a catalyst for productivity and innovation, spearheading growth."
The Next Generation Cobot – UR20
Locally, the government has made strides in embracing the Fourth Industrial Revolution to ensure the manufacturing sector continues to be competitive. In 2021, there was an allocation of RM100 million for the Smart Automation Grant (SAG) under the PENJANA stimulus package, along with RM50 million under the PEMERKASA aid package. The SAG encourages small-medium enterprises and mid-tier businesses to adopt automation and digitalisation in production processes and operations.
The general outlook for Malaysia's electronics industry remains favourable, with major technological developments such as 5G rollout over the next 5 years driving demand of 5G mobile phones, and rapid growth of industrial automation and IoT boosting the growth of industrial electronics.
New large scale projects including Intel's investing US$7 billion semiconductor packaging plant in Penang and Infineon's new state-of-the art wafer fab module in Kulim, both expected to complete in 2024, reaffirming Malaysia's position as a significant electronics manufacturing hub.
This comes at an exciting time in the realm of collaborative automation, with next-generation cobots such as the UR20 entering the market. The UR20, UR's latest addition to its line of cobots, offers industrial capabilities in an incredibly small footprint—weighing in at just 64 kg but boasting a 20kg payload capacity and a 1750mm reach.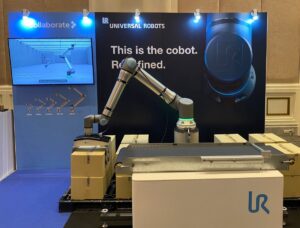 It offers a versatile solution for businesses looking to automate applications from material handling and welding to palletising, and will be available for a hands-on experience with demonstrations by experts at Collaborate APAC 2023.
Conference Highlights 
Additionally, UR's Head of Research and Development of Cobot, Lars Bach, will be making the trip from UR's Denmark headquarters to the conference in Malaysia where he will provide insights to UR's developmental process for each successive generation of cobots, and how UR stays innovative.
He will also be part of a panel discussion alongside Kok Chee Kheong, Director of Operation Engineering at Flextronics, and Dr Ishkandar Baharin, President of Malaysia Robotics and Automation Society (MyRAS), where they will explore how collaborative automation is transforming industries in APAC and shaping the transition towards Industry 5.0. The panel discussion will be moderated by Dr Yeong Che Fai, Associate Professor at University of Technology Malaysia.
Experts from UR's ecosystem partners such as Mirka, Robotiq, Mech-Mind, Schunk, SensoPart, SICK, DF Automation, DEPRAG, Kuqi Intelligent Technology, Impaqt Robotics, LINAK, Schmalzand Zimmer Group will share their experiences thru their presentations.
Applications on show include palletising by the UR20, surface finishing by the UR3e and UR5e, vision recognition of multiple parts by the UR16e, and robot on a lifter by the UR10e, among others. Additionally, an array of components, grippers, vision cameras, software and safety accessories that seamlessly integrate with UR cobots will also be showcased to complement the demonstrations of the various applications.
"Ultimately, we want Collaborate APAC 2023 to foster collaboration in the Malaysian manufacturing community where industry players can learn from one another and propel it to new heights," added Adam. "Manufacturing is a vital cog in the machine of Malaysia's economy, and through collaboration, it will grow from strength to strength."
Keen to find out more? Find the full agenda of Collaborate 2023 here! With only 300 seats available, pre-register for the event now!