Electronics manufacturers worldwide are advancing their industrial digitalisation efforts using a new, comprehensive reference workflow that combines Nvidia technologies for generative AI, 3D collaboration, simulation and autonomous machines.
Supported by an expansive partner network, the workflow helps manufacturers plan, build, operate and optimize their factories with an array of technologies. These include: Omniverse, which connects top computer-aided design apps, as well as APIs and cutting-edge frameworks for generative AI; the  Isaac Sim application for simulating and testing robots; and the Metropolis vision AI framework, now enabled for automated optical inspection.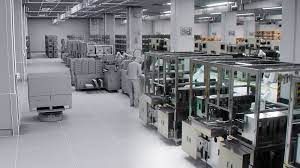 At Computex, Nvidia founder and CEO Jensen Huang showcased a demo of an entirely digitalised smart factory — an industry first for electronics makers.
"The world's largest industries make physical things. Building them digitally first can save enormous costs," said Huang. "We make it easy for electronics makers to build and operate virtual factories, digitalise their manufacturing and inspection workflows, and greatly improve quality and safety while reducing costly last-minute surprises and delays."
Foxconn Industrial Internet, a service arm of the world's largest technology manufacturer, is working with Nvidia Metropolis ecosystem partners to automate significant portions of its circuit-board quality-assurance inspection points.
Innodisk is deploying Nvidia Metropolis to automate optical inspection processes on its production lines, saving cost and improving production efficiency.
Pegatron, a leading electronics manufacturer and service provider, is using the reference workflow to digitalise its circuit-board factories with simulation, robotics and automated production inspection.
Quanta, a major manufacturer of laptops and other electronic hardware, is using AI robots from its subsidiary Techman Robot to inspect the quality of manufactured products. Techman is leveraging Isaac Sim to simulate, test and optimise its state-of-the-art collaborative robots while using NVIDIA AI and GPUs for inference on the robots themselves.
Wistron, one of the world's largest suppliers of information and communications products, is tapping  Omniverse to build digital twins of its automated receiving lines and operations buildings using inputs from Autodesk AutoCAD, Autodesk Revit and FlexSim. Wistron also uses Metropolis to automate portions of its circuit-board optical inspection using AI-enabled computer vision.
Industrial ecosystem swarms technologies
Nvidia is working with several leading manufacturing-tools and service providers to build a full-stack, single architecture with each at every workflow level.
At the systems level, IGX Orin provides an all-in-one edge AI platform, combining industrial-grade hardware with enterprise-level software and support. IGX meets the unique durability and low-power-consumption requirements of edge computing, while delivering the high performance needed for developing and running AI applications.
Manufacturer partners ADLINK, Advantech, Aetina, Dedicated Computing, Onyx, Prodrive Technologies and Yuan are developing IGX-powered systems to serve the industrial and medical markets. These systems allow the benefits of digitalisation to be realised during physical production.
At the platform level, Omniverse connects the world's leading 3D, simulation and generative AI providers. The open development platform, for example, lets teams build interoperability between their favorite applications — such as those from Adobe, Autodesk and Siemens.
A demo in the Computex keynote showcased Omniverse connected to various AI assistants, such as ChatGPT and Blender GPT, to simplify 3D workflows and Python-application development. Nvidia Omniverse Cloud, a platform-as-a-service now available on Microsoft Azure, gives enterprise customers access to the full-stack suite of Omniverse software applications, and OVX infrastructure, with the scale and security of Azure cloud services.
And at the application level, Isaac Sim allows companies to build and optimally deploy AI-based robots. Manufacturers can work with industrial automation company READY Robotics to program their robot tasks in simulation before deploying in the real world. Simulation technology partners like SoftServe and FS Studio shorten development timelines for customers by building digital twin-based simulations.
Also at the application level, Metropolis includes a collection of factory-automation AI workflows that enable industrial solution providers and manufacturers to develop, deploy and manage customised quality-control solutions that save costs and improve production throughput. A large partner ecosystem — including ADLINK, Aetina, Deloitte, Quantiphi and Siemens — is helping to bring these solutions to market.