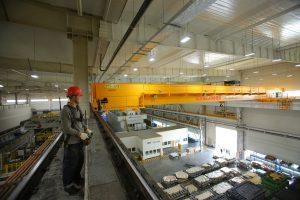 One of SSDT's latest Konecranes 60/30 ton installations for precise and efficient die handling, with remote control for safety and clear vision.
A company that has set its sights on achieving global leadership standards in automotive die manufacturing, Shanghai Superior Die Technology Co Ltd (SSDT), is partnering with Konecranes to help it achieve world-class standards of quality, reliability and safety required.
The SSDT – an affiliate of SAIC Motor Corporation Ltd, employing more than 2300 people – has so far installed a total of 46 sets of Konecranes lifting technology as it expands its plants in Shanghai, Nanjing, Yantai and Wuhan.
The lifting technology, composed primarily of Konecranes' top-selling CXT types, is integral to SSDT die and automotive parts production and product handling as it builds towards its China 2025 industry development plan focussed on high-tech fields, including achieving top global standards of Industry 4.0 smart production strategies.
SSDT produces hundreds of thousands of sets of doors, hoods, decklids, and front and rear floors annually, as well as manufacturing thousands of tons of large auto-body covering dies for domestic and overseas automakers.
SSDT's research and development drive since its establishment in 2003 has seen it produce new technologies, including ultra-high strength metal hot stamping dies and aluminium dies – something not previously produced in China and the quality and value of which is aimed at top end manufacturers in Europe.
SSDT's cranes – including its most recent repeat order for a set of double 60/30-ton types – are primarily equipped with high reliability Konecranes CXT hoists, of which more than 10,000 are sold every year. The CXT wire rope hoist is known for its efficient use of space under the crane and its excellent hook approaches. Safety is improved through high-performance brakes, durable wire ropes and remote operation. The cranes' adaptive speed range means loads move at an optimal rate, enhancing control and improving productivity, yet still saving energy.