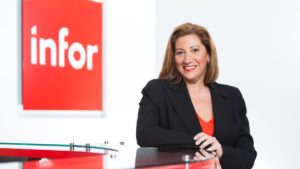 Authored by Helen Masters, senior vice president and general manager, Asia Pacific, Infor
 It's the sound you dread: a bang, crash or shout heralding that one of your employees has been injured.
In that moment, you know that many things have been lost — a person's wellbeing (and possibly their life), the morale of other employees, and possibly, their confidence in the safety of their workplace. Underlying it all, the productivity, cohesion, and workflow you depend on to deliver a competitive, profitable product may also be impacted.
Workplace mishaps in Australia killed 182 employees in 2016, according to statistics from Safe Work Australia and resulted in nearly 104,000 non-fatal serious injuries.
Although workplace deaths have halved in a decade, and workplace-related injury and diseases reduced by a quarter, these still translate to 1.5 deaths per 100,000 workers and nearly 1 percent of workers affected by a serious work-related injury or illness.
 The effects are a serious drain on companies and on the wider economy — work related injuries and fatalities cost the nation $61.8 billion in 2012, nearly 5 percent of GDP.
Safer operations mean higher productivity
The old line about prevention being better than cure has never been more important than when talking about workplace safety. A safe workplace is essential to ensuring reliable, uninterrupted operations.
With strong safety programs, companies can significantly improve their productivity, while reinforcing their bottom line and not only boosting morale and wellbeing among their employees but also having a positive impact on the families and close friends of their employees.
There are no accidents
The question for many businesses is how to get from here to there.
In the transport industry, there is an assumption that there are no accidents, just collisions that could have been prevented with foresight and planning. It is hard to think of a sector where that basic principle does not apply.
An end-to-end approach to workplace safety begins with a dedicated effort to keep equipment in safe working order, develop workplace procedures and rigorous training plans, and deploy sensors that set off alarms or simply shut down equipment when it is being misused.
A safer workplace with enterprise asset management
Most companies have maintenance plans based on spreadsheets that track inspection and repair histories for critical devices and equipment. A comprehensive, cloud-based enterprise asset management (EAM) system does much more.
An effective EAM system:
maps out preventive maintenance schedules based on manufacturers' specifications and actual equipment histories, helping keep critical assets in top condition.
Uses Internet of Things (IoT) technology to spot changes in equipment function that point to deficiencies, inefficiencies, or emerging hazards early on.
Replaces hard copy maintenance routines with mobile checklists, and automatically uploads service records to a central server.
Captures content from multiple volumes and editions of hard copy manuals in electronic formats that are readily accessible and searchable.
Through the lens of enterprise asset management, the connection between safe operations and productive business systems is clear. If you adopted a sound approach to EAM, you have probably seen a corresponding reduction in injuries, downtime, and associated costs. If you are responding to injuries and near-misses too often, that safety record is probably a bellwether for other costs and business impacts across the system — and an opportunity for significant savings.
Unless your business is to do with health and safety, you may not have too many opportunities to literally save lives while boosting your own bottom line. Enterprise Asset Management helps you connect those dots, preventing as many shop-floor safety incidents as you can before they happen.