Konecranes safety-oriented technology in the maintenance facility of the Ben Cat district of Binh Duong province, Vietnam. Konecranes technology is also vital to the changing of heavy injection moulds in its production areas.
Global personal care products leader Procter and Gamble has partnered with crane safety and efficiency authority Konecranes to optimise workplace safety and efficiency at its new $US100 million Gillette plant in Vietnam.
Operating under the corporate signature "Your Safety, your Health, your Family," the plant operates safety-equipped CXT overhead cranes to lift heavy injection moulds in its production areas and to efficiently manoeuvre heavy workpieces in its maintenance areas.
The P&G Gillette Ben Cat Manufacturing Centre – which now employs more than 200 people following its construction to celebrate Procter and Gambles 20th year in Vietnam in 2015 – uses remote control technology to swiftly and safely handle heavy maintenance workpieces which it can lift, turn, manoeuvre and position using an eight ton CXT crane incorporating dual 3-ton and 5-ton hoists to provide the balance and precision required.
The same proven reliability is built into the 10-ton CXT crane used to lift, shift and precisely place the nine injection moulding machines in the plant's production area, where the company and has fused safety, ergonomic and reliability technologies into its CXT crane and wire rope hoist used to change in and change out moulds weighing 1.5 – 6.0 tons.
Procter and Gamble – which has worldwide sales exceeding $US 65 billion – has employed state-of-the-art manufacturing technology throughout its latest investment in Vietnam, where it has committed more than $360 million total investment building three plants and strengthening the company's reputation for spearheading innovation in the region.
The Ben Cat plant's CXT cranes incorporate Konecranes' most advanced family of remote service technologies, its TRUCONNECT Remote Services for enhanced safety, reliability and efficiency.
This latest innovation in crane maintenance and service includes a suite of remote services ranging from periodic data reporting to real-time diagnostics, technical support and production monitoring.
TRUCONNECT Remote Monitoring and Reporting is being introduced to help customers improve the productivity of their equipment by optimising crane usage, improving safety and optimising crane maintenance.
Procter and Gamble's CXT's – which feature variable runway speeds for efficiency in changing moulds in and out of production – are essential to the smooth and reliable functioning of the company's operation," says Procter and Gamble Operations Manager Mr Hoang TN.
"The safety, capacity and runway speed of the cranes are ideally suited to our needs," said Mr Hoang. "The compact overhead design gives us clear open workspace without floor traffic, such as forklifts. The cranes are very easy to use and very safe in service," he says.
CXT cranes with individual hoist capacities up to 80 tonnes — and complementary CXT wire rope hoists — are designed for effective load handling, taking up only a small area of the plant.
The CXT 8-ton model used in the plant's maintenance area – incorporating dual, 3t and 5t hoists – offers precision remote control and manoeuvring of workpieces required to maintain optimum production flow.
The double hoist and slow starting speeds enable maintenance staff to rotate the load with optimum safety, optimising access and reducing downtime by swiftly aligning maintenance tools with moulds.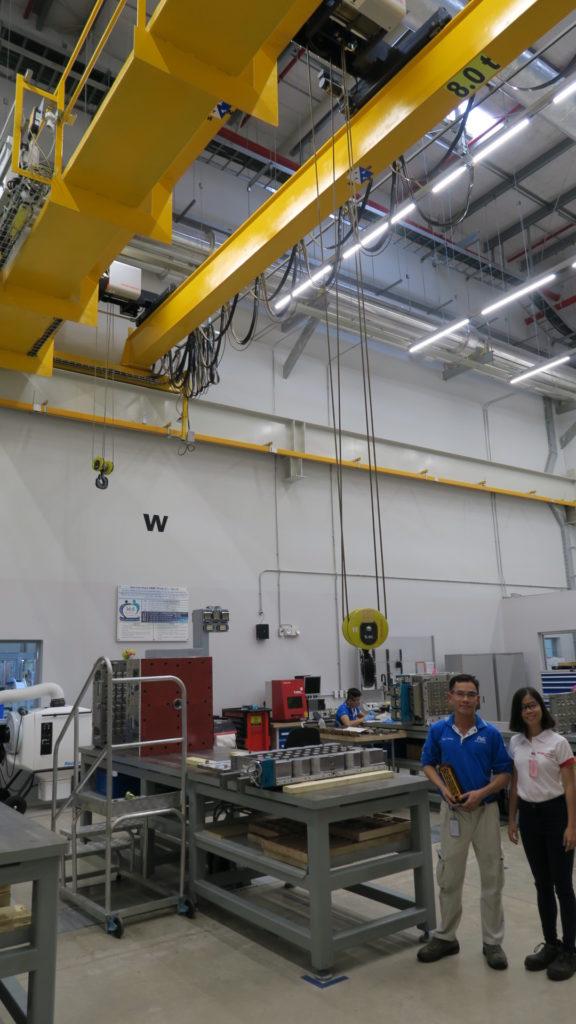 Mr Hoang demonstrates the simplicity of remote control with Konecranes Vietnam Contract Sales Executive, Ms Tong Thi Ngoc Tien
The user-friendly design of the CXT means Procter and Gamble can perform routine maintenance tasks on-site to optimise uptime, while Konecranes is on hand locally to back up with bigger jobs when and if required, he says.
CXT wire rope hoists are staple lifting devices used widely globally and throughout the Asia-Pacific in maintenance tasks, production lines, engineering industrial warehouses and factories.
Their strength, compact size, speed, reliability and safety make them indispensable in assembly workshops where time and space is money.
Konecranes' product development has invested in speeding up and extending hoist operation cycles, and in crane safety and durability. Features that have resulted from this research and development include:
Speed – The latest CXT wire rope hoists are available with adaptive speed ranges which improve productivity and save energy consumption
Adaptive Speed Range (ASR) – a stepless hoisting movement control method. It allows very slow speeds which are important in moment of load lift-off and lowering. It also has the ability to lift up to 50% faster than traditional hoisting control. ASR is typically used in light to medium lifting.
Extended Speed Range (ESR) – this is an extension of the ASR that allows even slower speeds. ESR is typically used in heavy to very heavy lifting. When more performance is needed out of the hoist, ESR is the choice.
Positioning and area control – This feature is designed to assist the operator in positioning the load more efficiently and accurately. This allows the crane's working area to be adapted to the varying physical layout of individual facilities and production lines.